My love of creating senseless, yet relatively harmless gifs has come to THIS! WHAT IS THIS MONSTER I HAVE CREATED!!!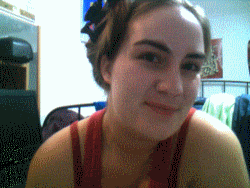 And why does it want to devour our souuuuls? Scariest frame
RIGHT HERE
. All the stills are on my flickr. Oh God... how did it all go so wrong....
P.S. Happy Halloween.... I was doing an asprin mask....
Posted by

Amanda
1:13 a.m.
Links to this post